Fully encrypted, secure, and mobile business communication for any modern office.
We're excited to introduce Modality Voice – an improved cloud-hosted phone technology that enhances internal and external communication in any work setting. Modality Voice empowers teams with the latest tools and technologies to improve efficiency and increase productivity.
The Future of Hosted Phone Technology
As remote work increases, hosted phone technology evolves to accommodate customers' needs. Our hosted phone solution provides customers with:
Increased deployment of 5G networks will significantly increase download speeds and computing power. This improves the quality of your phone service and provides high-quality call and video streaming. This makes dropped calls and frozen video calls a thing of the past making working from anywhere more efficient and pleasant.
Modality Voice integrates with your CRM, ERP, and other enterprise software systems. New integrations are also constantly being added to further increase convenience, productivity, and efficiency.
Transitioning to Modality Voice on mobile devices is easy. The ability to seamlessly switch from an office phone to a mobile device allows users to work remotely and keep in touch on the go.
Today's business environment changes rapidly. It can be challenging for businesses to keep up. With Modality Voice, changes in staffing are easier, enabling businesses to add lines, transfer extensions, and accommodate a shift in employee roles with ease. Adding or removing features is simple and encourages businesses to adopt the services they need when they need them.
Smarter Artificial Intelligence
Artificial Intelligence (AI) is used in Modality Voice to gather insights on all communications. This gives businesses the ability to strategically improve their communication protocols and service. Virtual assistants use AI to assist with phone calls. As technology progresses, Virtual Assistants will become smarter and more intuitive. AI-powered assistants could address basic questions, freeing customer service agents to spend more time resolving more complex issues.
Modality Voice uses geo-redundant data centers based in Ontario, Alberta and British Columbia. This ensures better call quality, performance and privacy, meeting Canadian Privacy Standards and laws.
Microsoft Teams Integration
Enable your business with the full Microsoft Teams phone and calling experience. Our Microsoft Teams integration is cloud based and connects Modality Voice to users in Microsoft Teams, just like a regular extension. There's no hardware or software to install and it can be set up in minutes. Bring all users under one collaboration platform by using Microsoft Teams for collaboration, messaging, and voice across all devices.
Enjoy Time Saving Features
There's no need to spend so much time listening to messages when they're turned into text and sent to your email – and that's exactly what this feature does. It's a massive time-saver.
Since speech-to-text transcription technology isn't perfect, and sounds such as wind or talking in the background can interfere, we also include an audio attachment of the message in every email – just in case you need it.
This feature is also known as the virtual receptionist because it automatically answers calls – it can actually answer an unlimited number of calls coming into your number at the same time. It ensures no caller ever hears a busy tone – and it plays a customizable message to every caller, so you can greet them warmly and inform them of hours, promotions, or anything else you'd like to share. It also redirects calls to their desired extension (press 1 for sales, etc) and places them in a call queue if the line is currently busy.
Call recording has a plethora of uses, from quality control to training and everything in between. You can use it to evaluate your team's customer service skills and work on weaknesses. Or you can use outstanding examples of customer service as training for new recruits to model after. It's also good for building rapport with individual customers – for example, by going over the recording, you can take notes of personal details that they mention.
Presence lets you see who's busy just by looking at your screen. If you're in need of an extra set of hands, you can check and see who's free to call. You'll never have to try a bunch of busy people before finding someone who's actually available. It's an especially useful feature for remote workers.
Tablet, smartphone and computer apps are available to allow dialling to and from mobile devices using a WiFi or cellular network.
Connect using a Google Chrome extension on the go using any computer and microphone. Compact and expanded views give users the choice to see active chats, answering rules, voicemail messages, and more.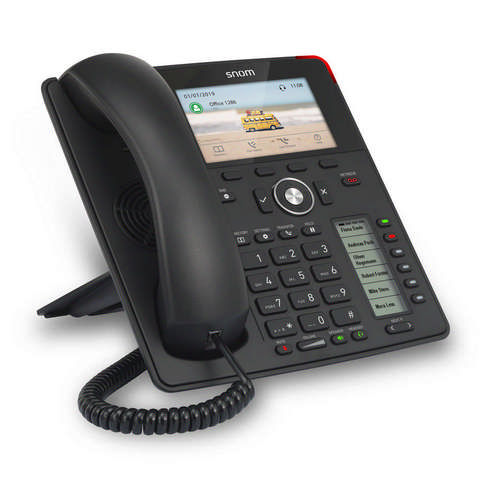 High-resolution 4.3" graphical TFT display

Dedicated display for extension monitoring

Up to 24 BLF keys (6 physical)

Improved graphical user interface

Dual-angle footstand: 46° and 28°

Wall mountable

Wideband hands-free talking

Digital Signal Processor (DSP) enhanced audio quality

2-port 1-Gigabit Ethernet switch (RJ45) IEEE 802.3

Power over Ethernet IEEE 802.3af, Class 3

USB headset(1) ready

D7 or D7C Expansion Module(1) ready

Support for USB WiFi stick

Electronic Hook Switch (EHS)(1) support for

wireless headsets
Built-in Bluetooth compatibility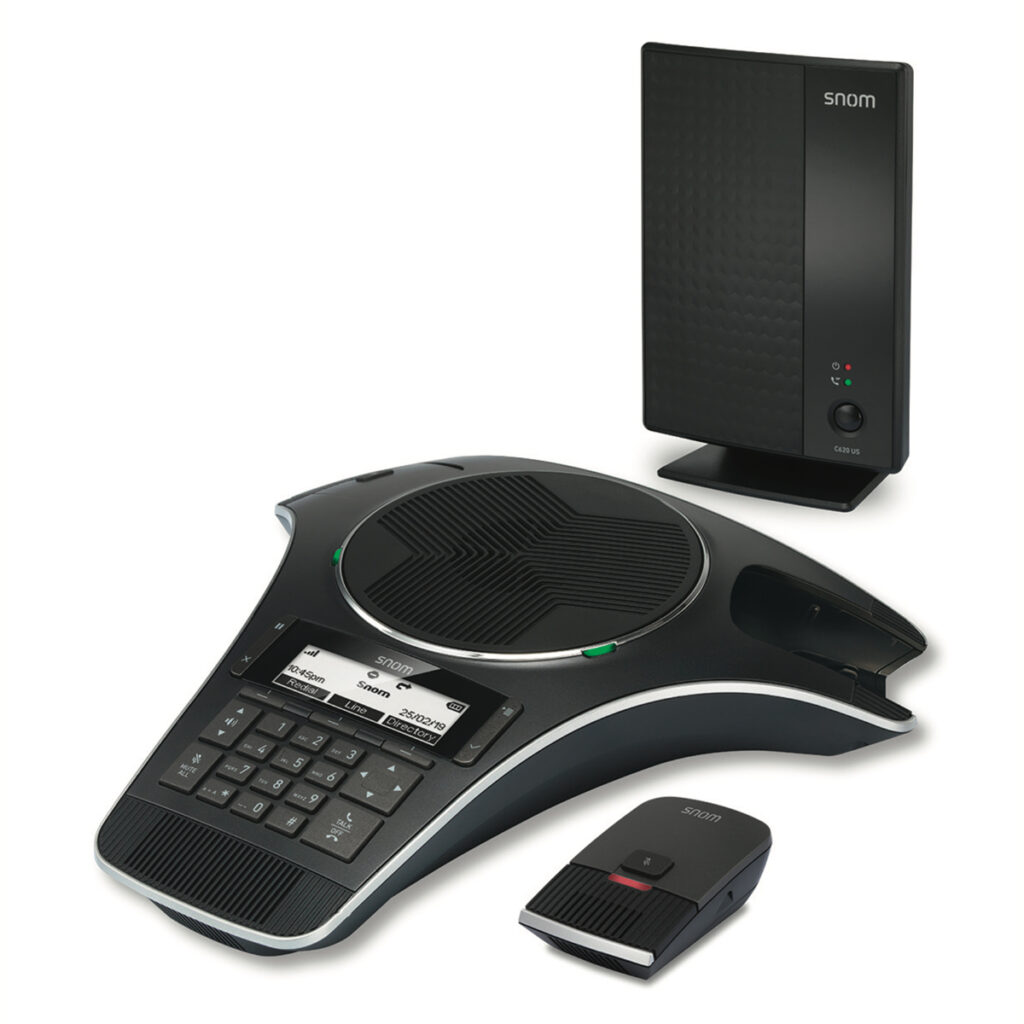 Full-duplex speakerphone in base
Wireless freedom
Up to 24 hours of wireless talk time
Up to 3 SIP lines/accounts
Wireless expansion speakerphones available for increased volume and 21 or more active participants
Innovative design with user-friendly interface, large backlit display, three soft keys and navigation pad
HD voice quality
DECT 6.0 wireless microphones
Up to 12 hours of talk time per wireless microphone
Up to 70 hours of standby time per wireless microphone
Built-in wireless microphone charging bays in base
Operable in small, medium or large rooms
3 year standard warranty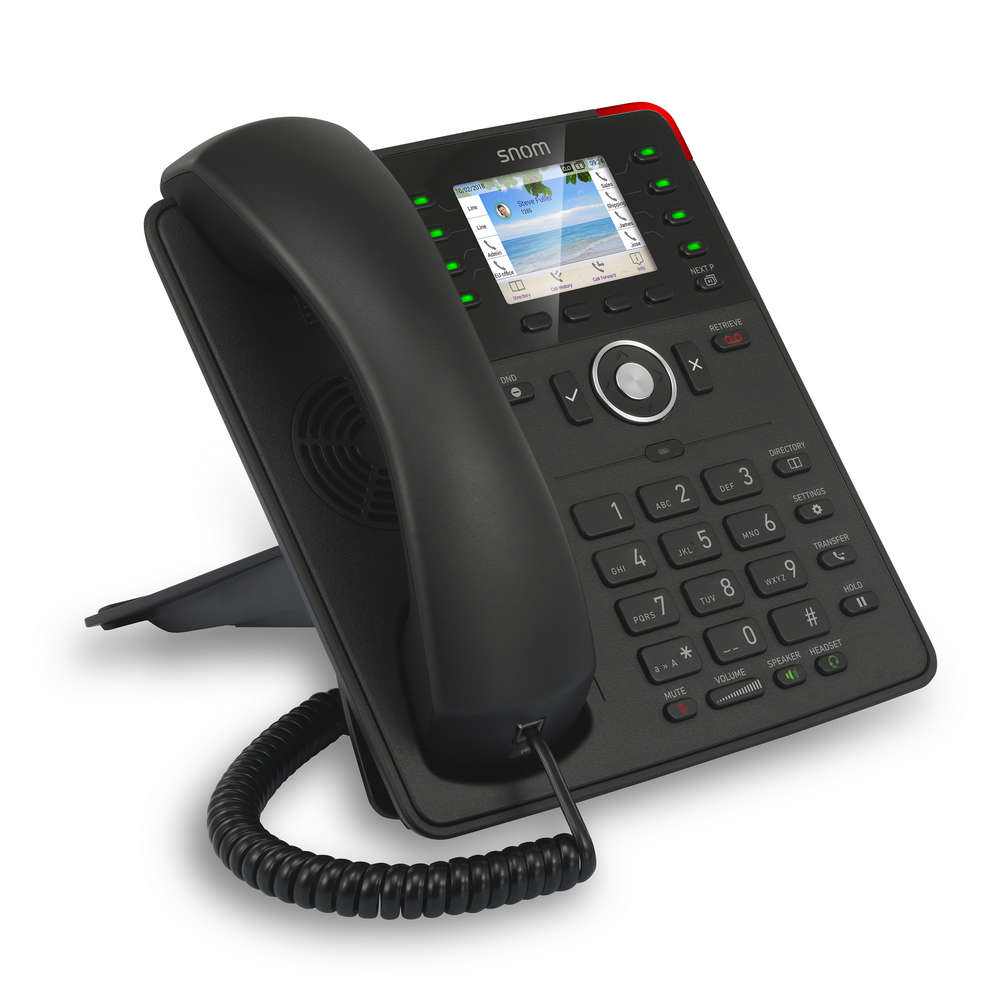 Colour LCD Display & Proximity Sensor
High-resolution colour display

Motion sensor

8 (32) configurable 

self-labeling multicolour LED keys

High-resolution 2.8" graphical TFT display

32 self-labeling function keys (8 physical)

Sensor technology enables responsive UI

Wideband hands-free talking (speakerphone)

Digital Signal Processor (DSP) enhanced audio quality

2-port Gigabit Ethernet switch (RJ45)

Power over Ethernet IEEE 802.3af, Class 2

USB headset(1) ready

D7 or D7C Expansion Module(1) ready

Support for USB WiFi stick

Electronic Hook Switch (EHS) support for wireless headsets

Dual-angle footstand: 46° and 28°

USB port
Improve Team and Customer Communication
With modern features like Video Conferencing, SMS, and CRM Integration, you can create seamless Internal and External Communication Processes that will make doing business a breeze.